Lauren Conrad's Cali-Cool Home in the 'Burbs
Hmmm, that name rings a bell! Indeed this is the home of LC; former Teen Vogue intern, befriender and (then un-befriender) of social climbers and giver of all wisdom on The Hills. The MTV reality show was all the rage when I was in college, but I was never that into it. It was years later when Lauren launched a lifestyle website, vintage-inspired clothing brand, Paper Crown (Yay for business names with the word 'Paper' in them!), and began to dabble in wedding and party styling that I began to really take an interest. I have to hand it to her; she's created a beautiful brand. I've even read (and been envious of) the claim that she's the "Martha Stewart of millennials".
With praise like that, expectations were set high for what her home would be like. I'd seen a tour of her former apartment and fell in love with her decorating style. When I heard she got married and moved to the suburbs, I hoped that her signature modern femininity wouldn't be lost (because y'know, husbands and their fugly Xboxes and sports equipment. Yeah, no thanks. I'd rather die a spinster.). My concerns were relieved when I saw a home tour of her Pacific Palisades abode on MyDomaine.com. To help merge her delightful style with his, and maintain the integrity of the Spanish-style home, Lauren enlisted the help of interior designer Katherine Carter of Katherine Carter Design
Photography by my favourite interiors shooter, Tessa Neustadt.
I've long been a fan of open shelving in a kitchen; but only if things are kept orderly. Take a leaf from Lauren's book and keep dinnerware in the same neutral colour scheme. This prevents your open shelving from becoming an eyesore.
When you've got an alcove and a large selection of vintage bottles and china…
Shelf that bad boy.
"I love our living room because there are no electronics in there—just books, instruments, and a Victrola," she said. "When we are in the living room, we aren't watching television or glued to our phones. You We are talking or playing board games in front of the fire."
A tan leather sofa, textured cushions and a collection of greenery keep this otherwise all-white living room from looking stark.
Lauren has mastered the art of coffee table décor; interesting books, fresh blooms, personal mementos and an all-important catch-all for corralling the contents of your pockets at the end of the day.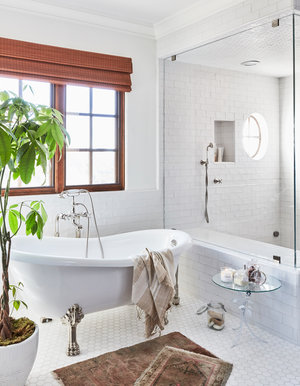 I love the use of vintage Persian rugs in place of bathmats. They compliment the traditional clawfoot tub's romantic feel.
"I definitely like cleaner-looking spaces, but I think you have to work within the bones of the house," she said. "My last place wasn't Spanish style at all, so I think it's about making a place your own without changing it too much. I think when you try to completely change a space to be something it's not, it doesn't look as natural; it looks look a little awkward. So I wanted to work with what was here and customize it."
And she did a damn good job of it too.